Remembering Mary Herczog
The Pink Fund is honored to share a note from Steve Hochman, and this giving opportunity with you, as we celebrate the birthday of his wife Mary, the namesake of our Mary Herczog Fund for Metastatic Breast Cancer Patients.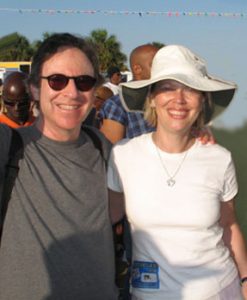 To employ a graceless, but serviceable analogy, consider life as a sort of card game. Everyone is dealt hands, some good, some bad. We all know people who have been dealt very bad hands, indeed, and in some cases have played them brilliantly. We also know those who have been given great hands only to squander them. The trick is to play your cards as well as you can, bluffing if you must. Just don't fold.

-Mary, Los Angeles Times, April 13, 1998
March 31st will mark the 55th anniversary of Mary's birth. On one hand it's hard to believe, hard to think of her as 55. On the other, I can easily picture her at that age, readying a book from her continued studies for publication, convening circles of friends for revels of food and fun, anticipating that first cochon de lait po'boy at the New Orleans JazzFest (our 29th consecutive one!), planning our next big trip to… well… anywhere in our ever-opening road of possibilities. And in it all, her face beaming, full of joy — of LIFE.
But when it comes to Mary, sadness about what she's missed fades some in the bright light of all she did. And it is with that in mind that March 31 is a day to celebrate, to embrace life as she did, to fill ourselves with wonder.
And chocolate.
Reading what she wrote in the quote above, a few things are striking, one being that now she might cringe at using such a conventional metaphor. But as with everything regarding Mary, she could imbue even the most mundane things with so much meaning, and here it comes in the last words of that passage, a key thing about her.
She did not fold.
Ever.
She also would recognize, though, that not everyone even gets to play their hand in the first place. Some lack the support system, the resources to do more than get by even in "normal" circumstances. And when struck with cancer, getting by is too much to handle. The bills mount, and working it not possible. Even if it is possible, it's a strain beyond reason.
Mary would have loved The Pink Fund and the work it is doing. She would have jumped wholeheartedly into the campaigns to provide that lacking financial support so that women with metastatic breast cancer could get on with the treatment and with living without having to wonder how the kids will be fed, how the rent will be paid, how the lights will stay on.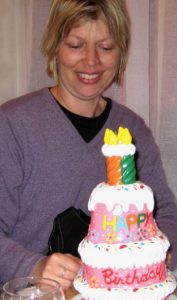 And she would be proud, overjoyed, to know that so many of you have joined in this effort in her name via the Mary Herczog Fund for Metastatic Breast Cancer Patients. Thanks to your support, last year we were able to provide crucial financial assistance for six months each to six women in great need as they waited for their Social Security disability benefits to activate.
To celebrate her birthday, we are launching the 2019 appeal to raise $55,000 for the Mary Fund to increase the number of women helped.
I hope you will join me again in this, at whatever level you can, to give these women the immeasurable gift of security in a time that seems to hold anything but that for them. It's a gift of life, of being able to live as they wage their biggest fight.
You know what Mary would say to this, and I say it to you in deepest love and gratitude:
YAY!
- Steve 
TO DONATE IN CELEBRATION OF MARY - CLICK HERE