5 Years of cars & passion
Lingenfelter Collection & The Pink Fund - 
5 Years of cars & passion
Since 2013, we've had the honor of partnering with Ken and the team at The Lingenfelter Collection to raise money toward our mission of providing 90 days of financial support for working breast cancer patients in active treatment.
The collection, created by Ken Lingenfelter, (cousin of the legendary speedmaster John Lingenfelter), started as just five cars crammed in a modest three-car garage has since grown into a beautiful collection of more than 150 unique cars in a 40,000 square foot space.
The Lingenfelter Collection is one of the world's pre-eminent car collections and people from across the US come to charity open houses each year to get up close to it.  There is something for everyone from enthusiasts to serious collectors. The collection boasts 40% Corvettes, 30% Muscle Cars, 30% Exotics, and some are among the most rare automobiles in the world.
This transformation has allowed the collection, that is closed to the public, to be used in support of charity events selected by Ken and his wife Kristen. After losing his mother and his sister to breast cancer, the breast cancer cause grew even more meaningful. The Pink Fund's founder, Molly MacDonald, shares Ken's entrepreneurial drive and vision and together they have found common ground in their desire to change the lives of working breast cancer patients in active treatment.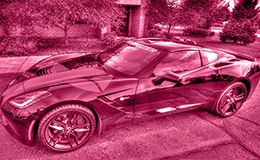 We are thankful for the passionate support of the Lingenfelter Collection team has been an important part of our growth. As Team Lingenfelter continues to enhance the passion and create excitement among hot-rodders, racers and exotic car enthusiasts, we are grateful to have the opportunity to come along for the ride.
A peek at The Lingenfelter Collection: