Molly MacDonald reflects on why she decided to start The Pink Fund
What was your inspiration for starting the Pink Fund?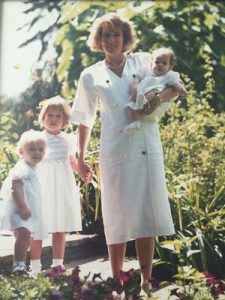 I've told my own breast cancer story many times before, but readers may not understa
nd that I had been through a financially devastating divorce and had no savings at the time of my diagnosis. As a
 mom of 5 children I was the main source of income for our family.  I had remarried a man who was self-employed as a piano technician.  My children's father was not paying the court ordered child support.  So when my career plans were detoured by my diagnosis, with the addition of a costly COBRA premium, we went into financial free fall.
At my lowest point, I was struck with the realization that even in my most desperate moments in line at the food bank, I had to take some action to ensure that other working women would not experience this financial nightmare.  I became determined to give help and hope.
This sparked the idea that if I created a fund to offer financial support to women who were head of household or the main income earner in the household, I could help them avoid what I have come to know as 'financial toxicity'. Financial Toxicity is the emotional, mental and physically debilitating financial side effects and burdens induced by cancer treatment.
Looking back over the last 12 years of The Pink Fund, we've seen a steady increase in deserving applicants. 
Why do you follow such a rigorous pre-qualification process?
To determine qualification, we employ a rigorous pre-qualification process that requires detailed confidential financial and health information and proof of hardship. 
Similar to any public assistance offering, our application process puts the burden of proof on the applicant. The rules we employ are required for several reasons, including ensuring donor dollars go to supporting deserving applicants. And in order to maintain our tax-exempt non-profit status, we must comply with local, state and federal laws and undergo an independent third party audit annually.  Apart from reviewing our financials, the auditor randomly pulls patient files to ensure that we are operating according to our guidelines as stated on our website.
That day in the line at the food bank...I never imagined how complex this would become, but it has
been worth it to be able to help as many people as we have over the last 12 years.