Molly MacDonald, Corp! Diversity Business Leader Award
This October, Corp! Magazines celebrated a decade of diversity. For the last 11 years Corp! has been celebrating Michigan's businesses and leaders who have displayed significant achievement in diversity within their organizations and community.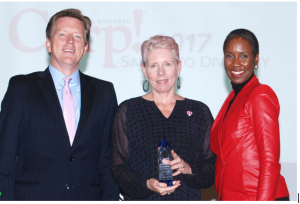 This year, our founder and CEO Molly MacDonald, received the Corp! "Diversity Business Leader Award", MacDonald was recognized for being a successful role model who embodies a vision that develops and supports diversity strategies and women's advancement within her organization and beyond.
The world is no longer divided into black and white, MacDonald explained. "And while racism is still rampant and people can still be hateful to one another, as the lines around color, faith, ethnicity, education and socioeconomic status begin to blur, we become better as we live, work and play together," she said. "With understanding, empathy and tolerance for our differences, we can celebrate that while we may look and act different, as human beings we are all seeking the same thing — love, acceptance and respect."