A Look Back on October Breast Cancer Awareness
October was Breast Cancer Awareness Month and The Pink Fund worked to create even more awareness around the financial cost of a breast cancer diagnosis. Without the help of our donors and volunteers, we wouldn't be able to provide financial support to help meet the basic needs of breast cancer patients and continue to provide #RealHelpNow.  This October, we were overwhelmed with the amount of support we received. We cannot thank our supporters enough for all of the time and effort they have put into helping our cause.
We kicked off Breast Cancer Awareness month with Cruz Pedregon and Snap-On Tools driving to bring attention to The Pink Fund®.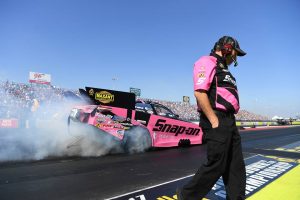 In the third year of our partnership, Snap-on has made an initial $50,000 contribution to our organization, plus additional donations through participating franchisee sales promotions. Through the month of October, the Snap-on Funny Car had a special paint scheme. Cruz Pedregon and his team wore matching crew shirts for NHRA fans to see and learn more about the work of The Pink Fund.
Snap-on donated $1 for every sticker that the U.S. franchisee purchased. Donations were not provided with distribution or sale of program magnets or pins.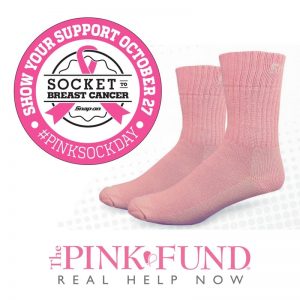 They hosted a "Pink Sock Day" on Facebook and encouraged users to post a picture of themselves in pink attire - for every post they gave $1 (up to $10,000) to The Pink Fund and The Kelly Shires Foundation.
Thank you! #SocketToBreastCancer #PinkSockDay
Lingenfelter Collection Charity Fall Open House
The Fall Open House for Lingenfelter directly benefitted The Pink Fund's mission. At their Open House, guests were able to enjoy 180 of the most unique cars including Corvettes, muscle cars and exotics all while benefitting our cause.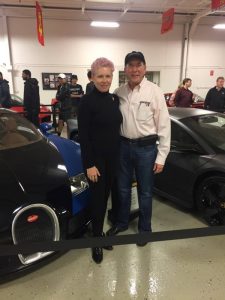 Lingenfelter Performance Engineering was founded over 44 years ago and is a globally recognized brand in the automotive performance engineering industry. Thank you Lingenfelter for giving #REALHELPNOW 
Molly MacDonald (left) with Ken Lingenfelter (right)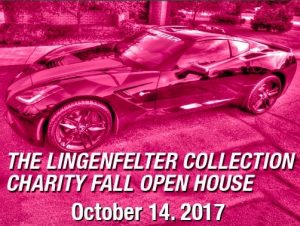 Schools and Universities Giving Back
There were several schools and universities that got very creative with ways to fundraise on our behalf.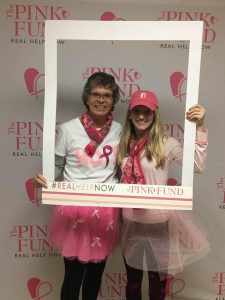 St. Mary Catholic School of Royal Oak, Michigan
The students celebrated a Pink Out Day. Ford Warriors in Pink  provided bandanas and the school offered them for a donation along with the children bringing in a donation of $2.00 to wear pink tops and jeans. The school raised $700.00! It was a wonderful, positive response from both the staff and the students. Assistant Principal, Linda Irwin (left) with teacher (right)
Sigma Phi Epsilon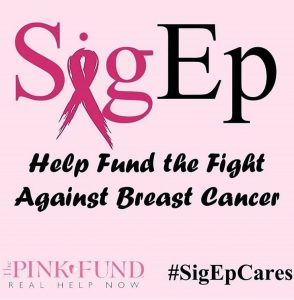 Sigma Phi Epsilon created an Instagram Challenge Campaign to raise money for The Pink Fund - donating $0.25 per "like" on their Instagram. Chapters from across the country took part and raised money for our cause. #SigEpCares
Vardar Girls Soccer Club give back!
A big Thank you to the Vardar Girls Soccer Club! In honor of Breast Cancer Awareness Month, they purchased pink jerseys and wore them to games in cities across the Midwest (Chicago, Milwaukee, St. Louis and Omaha) - They raised a total of $1200 for The Pink Fund! Great job girls!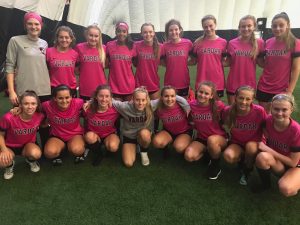 Partners in GIVING...
We also would like to thank CrateSpace.com, SD Bullion, Sun Pyramid Health, Wrapped in Love, Orangetheory, Around The Clock Fitness, Warstic, Swankey Tote, Noble Cause, Vineyard Vines (Michigan location), Plum Markets (Michigan), Angel of Grace and all of the wonderful fundraisers on our behalf this month.
We encourage you to continue to support our mission all year long. To start your own fundraiser on behalf of our mission check out our new online tool to make it easier than ever click here
Your help means so much to The Pink Fund! Supporters like you allow us to offer 90 days of much-needed financial support to breast cancer patients in active treatment.